Find Cheap Car Insurance in Wesley Chapel, Florida.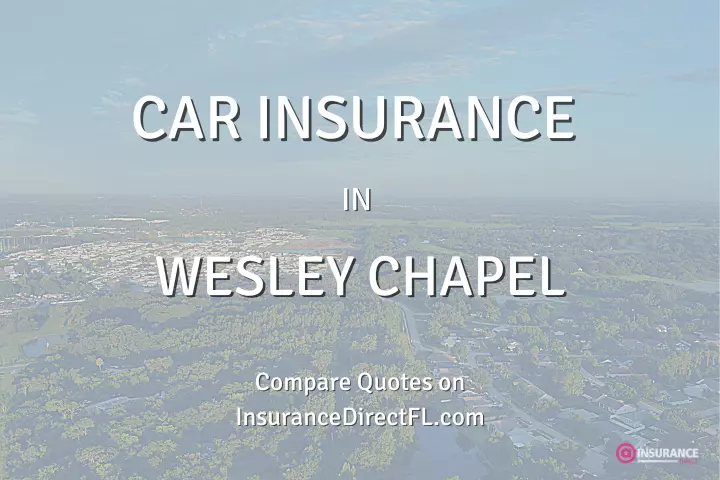 Wesley Chapel is located north of the Hillsborough County line, straddling both I-75 and Bruce B. Downs Boulevard and has a high average cost for car insurance. The population grew significantly from less than 16,000 in 2000 to over 65,000 today, transforming the once rural area into a Tampa suburb with thousands of new families and tracts of new homes.
Based on this statistic, insurance rates have soared, because it means a lot more drivers on the roads. That includes adults and young drivers, which in turn creates more possibilities of accidents occurring. We know there are many options for insurance. But regardless of whether the neighborhood has such a high income earning level, everyone can use a break from the high costs. Wesley Chapel is a high-cost location, but if you choose Insurance Direct, that will not be the case. We actually have an entire article about how to make sure you get the lowest cost car insurance in Florida possible. We will give you peace of mind that you will not be experiencing the high prices that the neighborhood offers. Our agents will see to it that you get a low payment and that is a good relief for Wesley Chapel residents, who are used to seeing high prices in everything based on the location.
Average Auto Insurance Cost in Wesley Chapel.
The average insurance cost in Wesley Chapel is $1,912 per year, and that is more compared to the average insurance cost in the entire Florida state, which is $1,809 per year. However, it is pricier when you compare it with the national average insurance, which is $1,548 per year.
Comparing quotes may help you get cheap car insurance rates in Wesley Chapel, Florida as low as $39/month.
Click To Tweet
Wesley Chapel has the highest median household income based in the Tampa Bay area. At $87,000, this central Pasco city is substantially leading the second and third place cities, Riverview and Brandon. That doesn't mean residents don't want savings from somewhere. Insurance Direct is just the agency you need to make that happen. Contact our licensed agent and save on your new policy.
What Are The Benefits of Having Car Insurance in Wesley Chapel?
The main benefit of insurance is that is a legal requirement in the State of Florida to drive with at least state minimum coverage. It's extremely important to protect you and your property from accidents that are unforeseen. There is no way to tell when something will happen, and it's best to be able to repair and replace your vehicle or another so you aren't paying out of pocket. Driving without insurance can actually cause you to have your license suspended, so it's always extremely important to speak with a licensed agent to find the best prices that fit you and your lifestyle.
Do I Need Comprehensive Auto Insurance in Wesley Chapel?
One of the most commonly misunderstood coverages is comprehensive insurance. Simply put, this covers the repairs or replacement of a vehicle if it was damaged or stolen in an accident that is not a collision.
How to Choose the Best Car Insurance Agency in Wesley Chapel?
Insurance Direct provides consistent and warm customer support when you need it most. It is so easy to get a policy online with us – all you need is to get a free quote online. Also, you may like to visit our office in Tampa, the address is 2800 N Macdill Ave, Suite B, Tampa, FL 33607. We're located at the corner of West Columbus Drive and North Macdill Avenue in Tampa, FL.
The best way to find cheap car insurance in Wesley Chapel, FL is to compare auto insurance policies. Whether you need auto, homeowners, renters, commercial, or coverage for your business, we can help! Get a great quote even with a suspended license, accidents, tickets, DUI, or need an SR-22 or FR-44 certificate. There will always be a friendly and licensed agent available to help you find a low-cost policy, during our working hours. That is why we work very hard to find each customer the exact coverage they require, at an affordable price. We will help you get your personalized car insurance policy, and we will apply all possible discounts.
We are the #1 cheap car insurance specialists in Wesley Chapel. Get a free online quote and save money.
Drive Safe!
---
Share This Insurance Story, Choose Your Platform!
---