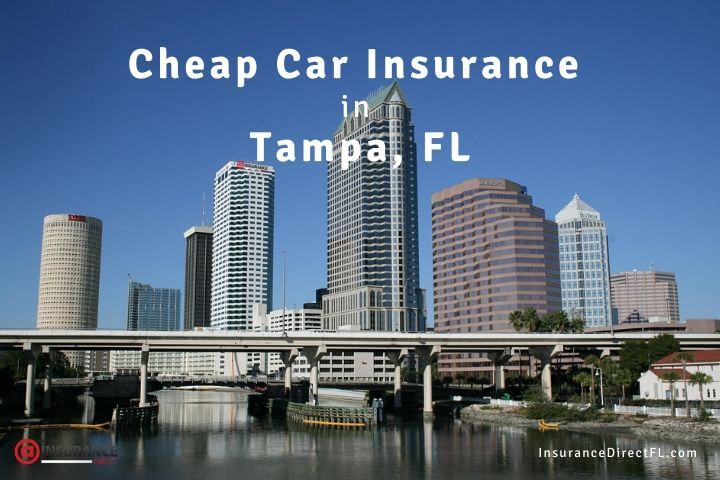 Cheap Car Insurance in Tampa, Florida.
The best way to find cheap car insurance in Tampa is to compare auto insurance policy rates and discounts after getting cheap car insurance quotes. Stop overpaying and searching — we will do all of the hard work for you! All you need to do is to get a free quote online, and we will take care for the rest.
How to Get The Cheapest Car Rates in Tampa.
More than 2 million residents are licensed drivers in the Tampa Bay area in Florida. The high number of people who are driving and how they drive makes Florida one of the most expensive state in terms of car insurance. Finding the cheapest car insurance quote available in Florida can be overwhelming and time-consuming. There are numerous companies, agencies and brokers in Tampa Bay claiming to be the best insurance providers available. But which agency or insurer is offering the cheapest car insurance in Tampa?
Tampa is ranked as the 5th most expensive city in Florida for car insurance.
Brandon is ranked as the 9th most expensive city in Florida for car insurance.
www.tampagov.net
Why Tampa is ranked as one of the most expensive cities in Florida for car insurance? You will need to get a policy with at-least the cheapest car insurance in Tampa before getting behind the wheel. You'll need to meet or exceed Florida state minimum coverage levels to drive legally. Whether a driver is buying a new car or settling up for the next stage in life, we are the cheapest auto insurance agency in Tampa, Florida.
Many people ask, why my car insurance rate is going up every 6 months when I don't have any tickets, accidents or claims? For the period of 2009 to 2020, the motor vehicle insurance cost increased by 47%. More expensive cars, more expensive repairs, and more accidents lead to higher insurance costs. So this could be the main reason for the rising price. If you don't like what you are paying, then you can compare quotes and find cheaper and better coverage.
What's the Average Cost of Car Insurance in Tampa?
It's cheaper to insure a car in the cities of Tampa, Brandon, Clearwater, Saint Petersburg, Pinellas Park and Lakeland going to an average of $2000. While Miami, Fort Lauderdale and it's surroundings have the most expensive insurance rates going for up to $3000 per year.
The average cost of auto insurance coverage in Tampa is higher than both the state and national average. What are the different rates state-minimum coverage and full-coverage auto insurance policies?
State Minimum - Lowest rate: $538 · Average annual premium: $1321 · Highest rate: $2341
Full Coverage - Lowest rate: $1562 · Average annual premium: $2873 · Highest rate: $4475
Tampa, Florida is part of a large metropolitan area called the Tampa Bay Area with almost 5 million population in Hillsborough and Pinellas county. Tampa Bay area is also part of the Brandon, Spring Hill, Ybor City, St. Petersburg, Pinellas Park, Largo and, Clearwater area.
Traffic congestion is one of the biggest problems for most Tampa drivers. Tampa Bay area ranks 14th for the worst traffic congestion in the United States. Fowler, Fletcher, Waters and Hillsborough avenues are considered some of the most dangerous roads in the Tampa area.
Minimum Car Insurance Coverage in Tampa, Florida
If you would like to be legal driving a motor vehicle on the road, you will need to get Florida state minimum coverage which will be always the cheapest policy you can buy. Florida car insurance laws require that you must have an active car insurance policy covering $10,000 in property damage liability and $10,000 in personal injury protection (PIP).
Property Damage Liability (PDL): $10,000. The maximum payment for all damaged property in an accident caused by you.
Personal Injury Protection (PIP): $10,000. The most your insurer will pay for injuries sustained in a car accident regardless of who is at fault.
There are optional coverages that offer additional financial protection and peace of mind:
Bodily injury liability is not required by most insurers but it pays for injuries to others from an accident you cause.
Comprehensive insurance is not required but recommended. Comprehensive, which replaces stolen cars and covers damage to your car from floods, fire, hail, vandalism.
Collision coverage is not required but recommended. Collision, which pays for damage to your car from accidents.
Uninsured / Underinsured Motorist - not required.
Emergency Road Service - not required.
Medical Payments - not required.
Towing and Labor - not required.
Rental Coverage - not required.
Tampa Car Insurance Discounts
There are different ways you can lower on your monthly premium by finding and applying for discounts. Shopping around and qualifying for discounts can save you a lot of money. Please note that each carrier offers different discounts:
Accident-free – drivers with no accidents during the past three years. You can save up to 10%.
Safe driver – no at-fault accidents or moving violations during the last three years. Save up to 35%.
Claims-Free
Multi-car – insure more than one car on a single policy and get your multi-car insurance discount. You can save up to 35%.
Bundled (multi-policy) – discounts for bundled home and auto, motorcycle, boat, trailer, life, or health with the same insurer. You can save up to 15%.
Homeowner – if you own a home or condominium, you may save up to 10%.
Early renewal – For renewing before policy expiration. You can save up to 15%.
Auto-pay – Set up automated payment from checking. You can lower it up to $55 per year.
Paid-in-full – pay the premium in full at the beginning of its policy. You may save up to 25%.
Electronic funds transfer – You may also apply a discount for electronic funds transfer (EFT) and allowing the insurers to automatically withdraw the agreed upon amount every month from your checking account or savings account. Also, many insurers offer the ability to pay for your premiums with a credit card.
Paperless – view and pay your bill online and save up to 2%.
Driver Training – for drivers under 21, can save up to 10%.
Defensive Driver
Electric/hybrid car – if you drive a hybrid or electric vehicle, you may save up to 10%.
Low-mileage – you can save up to 2%.
Emergency road assistance – for purchasing roadside assistance or driving a car that comes with it. You can save up to 5%.
Anti-lock brakes – Cars with anti-lock brakes, ABS and other safety features. You can save up to 10%.
Anti-Theft Device
Affiliation – Get a discount through your employer, school, team, club and save up to 15%.
New car – drive and own a vehicle that is less than three years old, save up to 10%.
Safe Vehicle with safety passive restraint and airbag – Insurers decrease premiums for safer cars. You may save up to 5%.
Senior – Apply to drivers over age 65. About 20% of the population in Tampa is over 65 and may save up to 20%. Current and former military members may qualify for military discounts.
We will apply any possible discount and will give you the best rate with the lowest down payment.
How to Reduce the Cost of My Florida Car Insurance?
Let us explain to you how to pay less and get affordable car insurance in Tampa. You may choose higher deductibles for lower premium payments. Also, avoid lapses in coverage, and pay in full for the next 6 months instead of choosing the cheapest down payment and monthly payments. Always drive safely to keep points off your license.
The most common topic of car insurance is "price" and "the cheapest car insurance tampa". While you are trying to find the right auto insurance in Florida for your vehicle, your main strategy would be finding the cheapest one. Since almost every insurance policy covers some standard issues, price becomes the only significant difference among the policy offers. We are the #1 Florida state minimum car insurance specialists, let us find you the cheapest car insurance with the best coverage.
How to Get the Cheapest Car Insurance in Tampa?
Please note that your rate will depend on your location, driving history, personal factors, age, gender, credit score, and vehicle. Auto insurance costs vary from location to location and between insurance carriers. The amount of coverage you want will determine the price, along with your age, gender, ZIP code, credit score, what you drive and driving record.
Driving Record
All of the insurers will ask you their favorite questions – Do you have any tickets or accidents? Has your license been suspended in the past 5 years? Your automobile insurance rates are affected by accidents and tickets. The most common reasons that individuals are labeled as high-risk drivers because of serious violations such as driving under the influence, causing a hit-and-run accident, speeding tickets.
Credit Score
Most U.S. car insurance companies use credit-based insurance scores to help determine risk. If you have a poor credit score it can boost your car insurance rates by hundreds of dollars a year compared with having good credit.
Where you live
Also, your ZIP code and where you live plays a large role in determining how much you pay.
Florida is ranked in the top 10 most expensive states for car insurance. Florida drivers pay an average of $1838.23 in premiums a year.
What vehicles you drive
Insurers decrease premiums for safer cars.
When you do start looking for an automobile insurance quote, all you will need is your driver license, vehicle year, make, model and VIN.
Who Has the Best and Cheapest Car Insurance Rates in Tampa, Florida?
Our top 6 picks of the most affordable insurers based on drivers living in Tampa. For good drivers with good credit, these are the cheapest auto insurance companies:
Progressive
GEICO
Allstate
Kemper / Infinity
State Farm
USAA
Your
Local

Car Insurance Agency

When you invest in expensive cars, it is important to have a backup in case of unfortunate events, which is why it is necessary to have the best car insurance in Tampa Florida, to protect you from any sudden financial constraints in case your car is in an accident or requires repairs. Tampa car insurance is your one-stop shop to all your requirements and the best company insurance offers in the state of Florida. The best kind of insurance is the one that covers all aspects and is still affordable for the clients. Also, our company aims to provide cheap car insurance in Brandon. At Insurance Direct, we can help you create a commercial auto insurance policy that is designed to safeguard the best interests of your business - so you can focus on serving your customers and increasing your profits.
How to Choose the Best Car Insurance Agency in Tampa?
A-1 Insurance Direct provides consistent and warm customer support. It is so easy to get a policy online with us – all you need is to get a free quote online. Also, you may like to visit our office in Tampa, the address is 2800 N. Macdill Ave, Suite B, Tampa, FL 33607. It is so easy to find us at the corner of West Columbus Drive and North Macdill Avenue in Tampa, FL.
The best way to find cheap car insurance in Tampa is to compare auto insurance policy. Whether you need auto, homeowners, renters, commercial, or coverage for your business, we can help! We may give you the better quote even if you have a suspended license, accidents, tickets, DUI, need SR-22 or FR-44 certificate. There will always be a friendly and licensed agent available to help you find a low-cost policy, in our working hours. That is why we work very hard to find each customer the exact coverage they require, at an affordable price. We will help you get your personalized car insurance policy, and we will apply all possible discounts.
For more information about coverage, laws, and discounts, please refer to your local DMV office, and visit the Florida Department of Highway Safety and Motor Vehicles website.
We are the #1 Tampa cheap car insurance specialists. Get a free online quote and save money.
---
Share This Insurance Story, Choose Your Platform!
---