Find Cheap Car Insurance in Havana, Florida.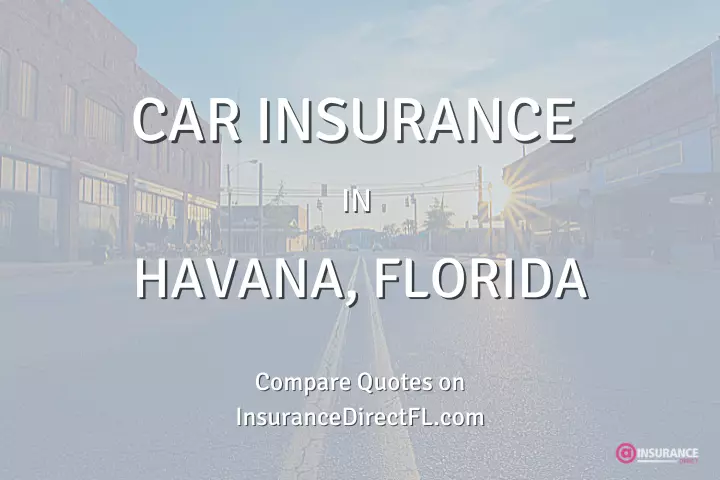 When looking for cheap car insurance in Havana, the most important factor is to ensure that you get the best coverage for your money. The historic town of Havana, FL boasts a long and interesting history from its origins in the tobacco trade to its now bustling small town with thriving boutiques and cafes. Havana encapsulates the small American town and all of the benefits that come with living in one. The community here is small and offers less than 10,000 people. It is beneficial in terms of insurance as there is less chance of accidents due to heavy traffic or high population. This is truly the place you want to be if you want to feel the embodiment of Florida personified. While this town is smaller, it is in fact only minutes from Tallahassee. This can in fact play a huge role in the prices you receive for car insurance in Havana.
A quick look at the auto insurance prices available for the nearby city of Tallahassee can serve as a great way to gauge the prices for Havana. In Tallahassee, the average auto insurance cost is around $98 a month, which in Florida terms is a home run, but still higher than across the nation. That's why it's important to work with a company that is here to serve you and your interests. Instead of using a big name brand, try a small business with a small and devoted staff that is here to help you and find you the absolute best prices for you and your lifestyle.
Average Auto Insurance Cost in Havana, FL.
The average insurance cost in Havana is $1,483 per year, and that is less compared to the average insurance cost in the entire Florida state, which is $1,809 per year. However, it is pricier when you compare it with the national average insurance, which is $1,548 per year.
Comparing quotes may help you get cheap car insurance rates in Havana, Florida as low as $39/month.
Click To Tweet
Minimum Car Insurance Coverage in Havana, Florida
If you would like to be legally driving a motor vehicle on the road, you will need to get Florida state minimum coverage which is the cheapest policy you can buy. Florida car insurance laws require that you must have an active auto insurance policy covering $10,000 in property damage liability and $10,000 in personal injury protection (PIP).
Property Damage Liability (PDL): $10,000. The maximum payment for all damaged property in an accident caused by you.
Personal Injury Protection (PIP): $10,000. The maximum your insurer will pay for injuries sustained in a car accident regardless of who is at fault.
There are optional coverages that offer additional financial protection and peace of mind:
Bodily injury liability is not required by most insurers but it pays for injuries to others from an accident you cause.
Comprehensive insurance is not required but recommended. Comprehensive, which replaces stolen cars and covers damage to your car from floods, fire, hail, vandalism.
Collision coverage is not required but recommended. Collision, which pays for damage to your car from accidents.
Uninsured / Underinsured Motorist - not required.
Emergency Road Service - not required.
Medical Payments - not required.
Towing and Labor - not required.
Rental Coverage - not required.
Do I Need Comprehensive Auto Insurance in Havana?
There are many different kinds of coverages for auto insurance, but one of the most commonly misunderstood coverages is comprehensive insurance. To make it clear and simple, this covers the repairs or replacement of a vehicle if it was damaged or stolen in an accident that is not a collision.
What Are The Benefits of Having Car Insurance in Havana?
The main benefit of car insurance is that is a legal requirement in the State of Florida to drive with at least basic coverage. It's extremely important to protect you and your vehicles from accidents that are unforeseen. There is no way to tell when something will happen, and it's best to be able to repair and replace your vehicle or another so you aren't paying out of pocket. Driving without auto insurance can actually cause you to have your license suspended! It's always extremely important to speak with a licensed agent to find the best prices that fit you and your lifestyle. In fact, our agents are here to serve you Monday - Friday 9 am to 6 pm, and Saturdays 10 am to 2 pm. But you can start your online auto insurance quote in FL at any time.
How to Choose the Best Car Insurance Agency in Havana?
Insurance Direct provides consistent and warm customer support when you need it most. It is so easy to get a policy online with us – all you need is to get a free quote online. Also, you may like to visit our office and get affordable auto insurance in Tampa. The address is 2800 N Macdill Ave, Suite B, Tampa, FL 33607. It is so easy to find us at the corner of West Columbus Drive and North Macdill Avenue in Tampa, FL.
The best way to find cheap car insurance in Havana is to compare auto insurance rates with us. Whether you need auto, homeowners, renters, commercial, or coverage for your business, we can help! We may give you a better quote even if you have a suspended license, accidents, tickets, DUI, or need an SR-22 insurance or FR-44 certificate. There will always be a friendly and licensed agent available to help you find a low-cost policy, during our working hours. That is why we work very hard to find each customer the exact coverage they require, at an affordable price. We will help you get your personalized car insurance policy, and we will apply all possible discounts.
For more information about coverage, laws, and discounts, please refer to your local DMV office, and visit the Florida Department of Highway Safety and Motor Vehicles website.
We are the #1 Florida cheap car insurance specialists. Get a free online quote and save money.
Drive Safe!
---
Share This Insurance Story, Choose Your Platform!
---