Find Cheap Car Insurance in Orlando, Florida.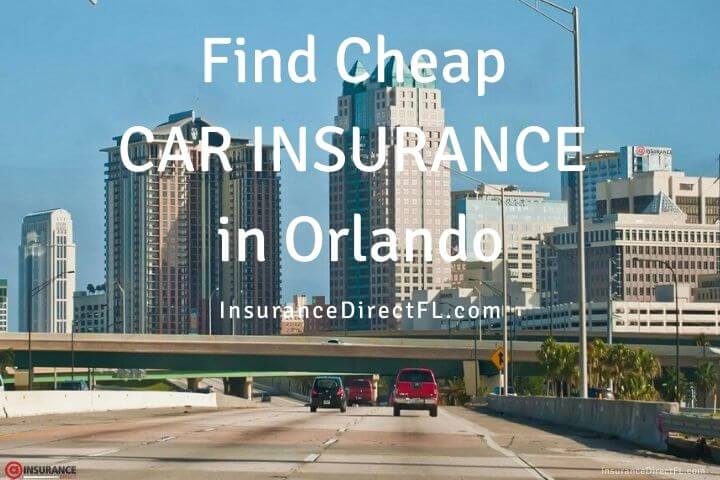 When looking for cheap car insurance in Orlando, there are plenty of factors to consider. The most crucial factor is to ensure that you get the best coverage for your money. Many companies offer cheap insurance covers around Florida and making sure that you find some of the best ones is crucial.
You can't select any company on the market just because they offer clients affordable car insurance in Orlando. You first need to find out what the company is all about, how they operate, if they are legit, and whether you can fully trust them with your money. Here, we are going to talk about low-cost car insurance in Florida to consider. Please read on.
Average Insurance Cost in Orlando.
The average insurance cost in Orlando is $1,702 per year, and that is less compared to the average insurance cost in the entire Florida state, which is $1,809 per year. However, it is pricier when you compare it with the national average insurance, which is $1,548 per year.
Comparing quotes may help you get cheap car insurance rates near Orlando, Florida as low as $39/month.
Click To Tweet
Here is our guide, which helps you to compare car insurance in Orlando to know the deals and the discounts you can get.
Auto Insurer Costs in Orlando
When looking for an affordable auto insurance quote, you need to check and compare some of the insurance companies and what they offer.
Auto Insurance Rates According to Age
Insurance premiums in Orange county also depend on age. Cheap car insurance in Orlando is paid by drivers who are in their 50s since their average annual insurance rate is $2,118. Drivers who are a bit older in their 60s pay a bit more, which is a yearly average of $2,164.
Teenagers are the ones who pay the highest insurance rates in Orlando. The good thing is that once you reach your 25, the insurance drops. The difference in cost between car insurance paid by a teenage driver and one who is in their 20s is approximately $2,485. Study shows that difference is the largest between the two age brackets compared to other states.
Insurance Cost Depending on Your Marital Status
Your marital status significantly contributes to the car insurance rates that you should pay. If you are a married driver living in Orlando, you have a bit of an advantage because you spend $90 less than someone single. It's also a proven fact that married drivers tend to enjoy cheap insurance rates in a lot of locations compared to single people.
Insurance Cost Depending on Your Gender
The cheapest car insurance in Orlando is also found among widows. Still, single people in Orlando pay more rates compared to those who are widowed. Another contributing factor to how much you are supposed to pay for insurance is your gender. Female drivers in Orlando are subjected to higher car insurance rates than male auto drivers. Female drivers pay $60 more than male drivers per year.
Auto Insurance Rates by Accident and Citation History
Your accident and citation history also significantly contributes to how much you should pay for car insurance. The best way to have low insurance costs is to make sure your driving record is spotless without any bad history. Negative issues such as DUIs, SR22, FR44, at-fault accidents, claims, citations from reckless driving, and speeding tickets can cause you to pay high car insurance rates.
According to most insurance companies, driving violations which they deem expensive include DUI and reckless driving. A citation from reckless driving in Orlando attracts an insurance cost increase of about $1,210 annually when you compare it with the statewide average. An offense resulting from a DUI can attract a penalty rate of $1,093 while a speeding ticket attracts a penalty cost of $581.
Auto Insurance Premiums Depending on Your Credit Score
Your credit score is also a contributing factor to the car insurance premiums you should pay. If you want the cheapest Orlando auto insurance, then you need to make sure your credit score is on point. You can face a high car insurance rate if you happen to be a driver who has a checkered credit history. If you happen to have a poor credit history, but then go-ahead to rebuild it to and have an exceptional tier credit score (800-850), then your car insurance rate may go down by 60 percent.
If you improve your poor credit score to "Fair," then that is also considered to be a huge and meaningful step and may go ahead to help you get a decrease of $1,751 in your car insurance.
What's the Average Cost of Car Insurance in Orlando?
The average cost of auto insurance coverage in Orlando is higher than both the state and national average. It is almost the same price to get cheap auto insurance Tampa. What are the different rates of state-minimum coverage and full coverage auto insurance policies?
State Minimum - Lowest rate: $658 · Average annual premium: $1702 · Highest rate: $2641
Full Coverage - Lowest rate: $1562 · Average annual premium: $2473 · Highest rate: $3868
What Can Make Your Insurance Premium Go Higher?
As you've seen from some of the best car insurance rates in Orlando that we've discussed earlier, you are in for a great deal if you keep things in order and avoid accidents or other negative stuff. But, other contributing factors can make your insurance premiums go higher. One of these factors includes your place of residence. We know this is a huge drawdown for most people, but most insurance companies also strive to avoid losses, which is why they also consider where their clients live when issuing auto insurance premiums.
The biggest reason for this is crime and theft. Also, the insurance premium varies by your zip code. Car insurance companies may consider you a high-risk insurance case if you happen to come from a bad neighborhood or one that is known to be notorious in terms of crime and theft. Therefore, this implies that you may be subjected to higher car insurance rates than other people who come from neighborhoods with a good reputation.
Minimum Car Insurance Coverage in Orlando, Florida
If you would like to be legally driving a motor vehicle on the road, you will need to get Florida state minimum coverage which is the cheapest policy you can buy. Florida car insurance laws require that you must have an active auto insurance policy covering $10,000 in property damage liability and $10,000 in personal injury protection (PIP).
Property Damage Liability (PDL): $10,000. The maximum payment for all damaged property in an accident caused by you.
Personal Injury Protection (PIP): $10,000. The maximum your insurer will pay for injuries sustained in a car accident regardless of who is at fault.
There are optional coverages that offer additional financial protection and peace of mind:
Bodily injury liability is not required by most insurers but it pays for injuries to others from an accident you cause.
Comprehensive insurance is not required but recommended. Comprehensive, which replaces stolen cars and covers damage to your car from floods, fire, hail, vandalism.
Collision coverage is not required but recommended. Collision, which pays for damage to your car from accidents.
Uninsured / Underinsured Motorist - not required.
Emergency Road Service - not required.
Medical Payments - not required.
Towing and Labor - not required.
Rental Coverage - not required.
Neighborhoods with the Best Auto Insurance Rates in Orlando
The top 10 cheapest neighborhoods with the best auto insurance rates in Orlando are Wedgefield, Huckleberry Fields, Bithlo, Colonial Town Center, Baldwin Park, Southchase, Conway (Belle Isle), Union Park, Lake Nona.
Some of the most expensive neighborhoods are Lake Fredrica, Lockhart, Lake Weldona, Azalea Park, Clear Lake, Oak Ridge (Belle Isle, Pine Castle, Edgewood), Millenia, Clarcona, Florida Center North, Pine Hills, Seaboard Industrial, Pine Hills.
Suburbs with the Best Auto Insurance Rates
The suburbs with the most affordable premiums near Orlando are Leesburg, Eustis, Winter Springs, Meadow Woods, Apopka, Clermont, and Oviedo. Suburbs with premiums higher than the city's average are Winter Garden, Ocoee, Poinciana, Winter Park, Saint Cloud, Buenaventura Lakes, Meadow Woods.
Orlando Car Insurance Discounts
There are different ways you can lower your monthly premium by finding and applying for discounts. Shopping around and qualifying for discounts can save you a lot of money. Please note that each carrier offers different discounts:
Accident-free – drivers with no accidents during the past three years. You can save up to 10%.
Safe driver – no at-fault accidents or moving violations during the last three years. Save up to 35%.
Claims-Free
Multi-car – insure more than one car on a single policy and get your multi-car insurance discount. You can save up to 35%.
Bundled (multi-policy) – discounts for bundled home and auto, motorcycle, boat, trailer, life, or health with the same insurer. You can save up to 15%.
Homeowner – if you own a home or condominium, you may save up to 10%.
Early renewal – For renewing before policy expiration. You can save up to 15%.
Auto-pay – Set up automated payment from checking. You can lower it up to $55 per year.
Paid-in-full – pay the premium in full at the beginning of its policy. You may save up to 25%.
Electronic funds transfer – You may also apply a discount for electronic funds transfer (EFT) and allowing the insurers to automatically withdraw the agreed-upon amount every month from your checking account or savings account. Also, many insurers offer the ability to pay for your premiums with a credit card.
Paperless – view and pay your bill online and save up to 2%.
Driver Training – for drivers under 21, can save up to 10%.
Defensive Driver
Electric/hybrid car – if you drive a hybrid or electric vehicle, you may save up to 10%.
Low-mileage – you can save up to 2%.
Emergency road assistance – for purchasing roadside assistance or driving a car that comes with it. You can save up to 5%.
Anti-lock brakes – Cars with anti-lock brakes, ABS and other safety features. You can save up to 10%.
Anti-Theft Device
Affiliation – Get a discount through your employer, school, team, club and save up to 15%.
New car – drive and own a vehicle that is less than three years old, save up to 10%.
Safe Vehicle with safety passive restraint and airbag – Insurers decrease premiums for safer cars. You may save up to 5%.
Senior – Apply to drivers over age 65, may save up to 20%. Current and former military members may qualify for military discounts.
We will apply any possible discount and will give you the best rate with the lowest down payment.
How to Reduce the Cost of My Florida Car Insurance?
Let us explain to you how to pay less and get affordable car insurance in Orlando. You may choose higher deductibles for lower premium payments. Also, avoid lapses in coverage, and pay in full for the next 6 months instead of choosing the cheapest down payment and monthly payments. Always drive safely to keep points off your license.
The most common topic of car insurance is "price" and "the cheapest car insurance Orlando". While you are trying to find the right auto insurance in Florida for your vehicle, your main strategy would be finding the cheapest one. Since almost every insurance policy covers some standard issues, price becomes the only significant difference among the policy offers. We are the #1 Florida state minimum car insurance specialists, let us find you the cheapest car insurance with the best coverage.
How to Get the Cheapest Car Insurance in Orlando?
Please note that your rate will depend on your location, driving history, personal factors, age, gender, credit score, and vehicle. Auto insurance costs vary from location to location and between insurance carriers. The amount of coverage you want will determine the price, along with your age, gender, ZIP code, credit score, what you drive and driving record.
Driving Record
All of the insurers will ask you their favorite questions – Do you have any tickets or accidents? Has your license been suspended in the past 5 years? Your automobile insurance rates are affected by accidents and tickets. The most common reasons that individuals are labeled as high-risk drivers because of serious violations such as driving under the influence, causing a hit-and-run accident, speeding tickets.
Credit Score
Most U.S. car insurance companies use credit-based insurance scores to help determine risk. If you have a poor credit score it can boost your car insurance rates by hundreds of dollars a year compared with having good credit.
Where you live
Also, your ZIP code and where you live play a large role in determining how much you pay.
Florida is ranked in the top 10 most expensive states for car insurance. Florida drivers pay an average of $1838.23 in premiums a year. For example, the Orlando ZIP code 32811 is the most expensive place for car insurance, about $426 more than the cost of the cheapest auto insurance you can buy.
What vehicles you drive
Insurers decrease premiums for safer cars.
When you do start looking for an automobile insurance quote, all you will need is your driver license, vehicle year, make, model and VIN.
Your
Local

Car Insurance Agency

When you invest in expensive cars, it is important to have a backup in case of unfortunate events. This is why it is necessary to have the best car insurance in Orlando Florida, to protect you from any sudden financial constraints in case your car is in an accident or requires repairs. Our car insurance agency is your one-stop-shop for all your requirements and the best company insurance offers in the state of Florida. The best kind of insurance is the one that covers all aspects and is still affordable for the clients. Also, our company aims to provide cheap car insurance in Brandon. At Insurance Direct, we can help you create a commercial auto insurance policy that is designed to safeguard the best interests of your business - so you can focus on serving your customers and increasing your profits.
How to Choose the Best Car Insurance Agency?
A-1 Insurance Direct provides consistent and warm customer support. It is so easy to get a policy online with us – all you need is to get a free quote online. Also, you may like to visit our office in Tampa or Brandon.
The best way to find cheap car insurance in Orlando is to compare auto insurance policy. Whether you need auto, homeowners, renters, commercial, or coverage for your business, we can help! We may give you the better quote even if you have a suspended license, accidents, tickets, DUI, need SR-22 or FR-44 certificate. There will always be a friendly and licensed agent available to help you find a low-cost policy, in our working hours. That is why we work very hard to find each customer the exact coverage they require, at an affordable price. We will help you get your personalized car insurance policy, and we will apply all possible discounts.
For more information about coverage, laws, and discounts, please refer to your local DMV office, and visit the Florida Department of Highway Safety and Motor Vehicles website.
Orlando's cheapest auto insurance depends on a lot of factors that we've outlined above in our discussions. The only way to ensure you get a better car insurance rate is by getting a free quote and doing what's right, and avoiding a bad driving history.
We are the #1 Florida cheap car insurance specialists. Get a free online quote and save money.
---
Share This Insurance Story, Choose Your Platform!
---