Find Cheap Car Insurance in Punta Gorda, Florida.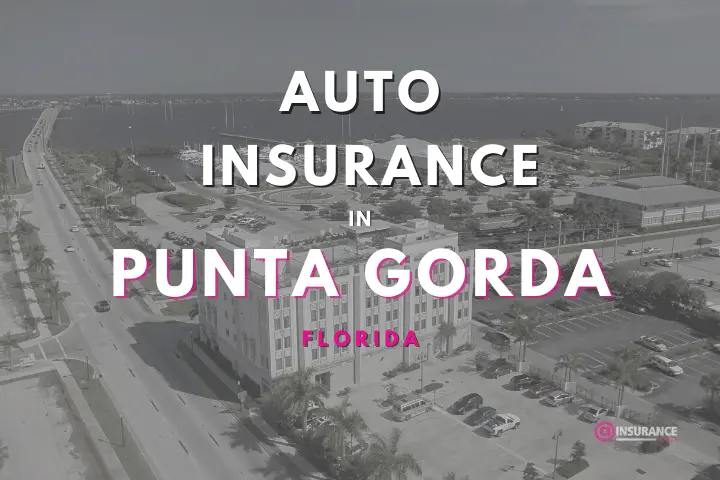 Getting car insurance in Punta Gorda, which translates to "Fat Point", is easier than ever. Located at the entrance of Southwestern Florida, it is known for its small-town feeling. Its tropical aesthetic makes this coastal paradise one of the most popular places to visit in Charlotte County. The entire land of Punta Gorda is 40% nature preserves. This small town has it all and most importantly has a strong sense of community - as shown by its Saturday markets and social spots in Fisherman's village.
What Are The Most Basic Types of Car Insurance in Punta Gorda?
State minimum coverage, state minimum plus liability, or full coverage? If you're confident in what you need, scroll down and get a quote, quickly and easily. For those who are new to the world of insurance or simply not adept, there are multiple different kinds of coverage and policies available for Florida citizens and it can be intimidating. When thinking about the most basic type of Insurance, keep in mind these keywords that can help you understand the world of auto insurance.
Personal Injury Car Protection (PIP) (required)
PIP coverage, your medical bills along with those of your passengers will be paid, no matter who is at fault for an accident.
Property Damage Car Liability (PDL) (required)
The maximum that your insurance company will pay for property damage caused by a car accident.
Collision Car Coverage (optional)
Collision coverage will pay for the repairs to your car.
Comprehensive Car coverage (optional)
The third insurance type is comprehensive, which offers you coverage to the fullest. It covers your car in extreme cases and accidents. Three people can be added to your insurance policy. This one covers your repair and replacement services. It also includes terms in case of a fire or damage by fire. It covers repair and replacement and can be extended to other members or people.
Here you can find a full list of all auto insurance coverages in Florida. There are many kinds of coverages for auto insurance, but one of the most commonly misunderstood coverages is comprehensive insurance. To make it clear and simple, this covers repairing or replacing a vehicle if it was damaged or stolen in an accident that is not a collision.
What is the Average Cost of Auto Insurance in Punta Gorda Per Month in Florida?
Punta Gorda averages extremely well for car insurance in the State of Florida. While other areas nearby slug far behind by actually going over the state's average price for policies, Punta Gorda stands out. Residents in Punta Gorda can expect to pay as low as $80. This is before any kind of discounts, and without shopping multiple carriers. That is why it's so important to work with Insurance Direct. We shop multiple carriers to find you the best rates in minutes.
The average premium price is similar for the nearest areas Solana, Cleveland, Harbour Heights, Charlotte Harbor, Port Charlotte, Murdock, North Port, Lake Suzy, Fort Ogden, El Jobean, Rotonda West, Placida, Cape Haze, Grove City, and Boca Grande.
Comparing quotes may help you get cheap car insurance rates in Punta Gorda, Florida as low as $39/month.
Click To Tweet
What Are The Benefits of Having Car Insurance in Punta Gorda?
The main benefit of insurance is that is a legal requirement in the State of Florida to drivea vehicle with at least minimum coverage. It's extremely important to protect you and your property from unforeseen accidents. There is no way to tell when something will happen, and it's best to be able to repair and replace your vehicle or another so you aren't paying out of pocket. Driving without vehicle insurance can cause you to have your license suspended, so it's always extremely important to speak with a licensed agent to find the best prices that fit you and your lifestyle.
Choose the Best Car Insurance Agency in Punta Gorda
Insurance Direct provides consistent and warm customer support when you need it most. It is so easy to get a policy online with us – all you need is to get a free quote online. Also, you may like to visit our office in Tampa, the address is 2800 N MacDill Ave, Suite B, Tampa, FL 33607. It is so easy to find us at the corner of West Columbus Drive and North MacDill Avenue in Tampa, FL.
The best way to find cheap car insurance is to compare auto insurance in Florida policies. Whether you need auto, homeowners, renters, commercial, or coverage for your business, we can help! We may give you a better quote even if you have a suspended license, accidents, tickets, DUI, or need an SR-22 or FR-44 certificate. During our working hours, there will always be a friendly and licensed agent available to help you find a low-cost policy. That is why we work very hard to find each customer the exact coverage they require, at an affordable price. We will help you get your personalized car insurance policy, and we will apply all possible discounts.
For more information about coverage, laws, and discounts, please refer to your local DMV office, and visit the Florida Department of Highway Safety and Motor Vehicles website.
We are the #1 Florida cheap car insurance specialists. Get a free online quote and save money.
Drive Safe!
---
Share This Insurance Story, Choose Your Platform!
---