Find Cheap Car Insurance in Cape Coral, Florida.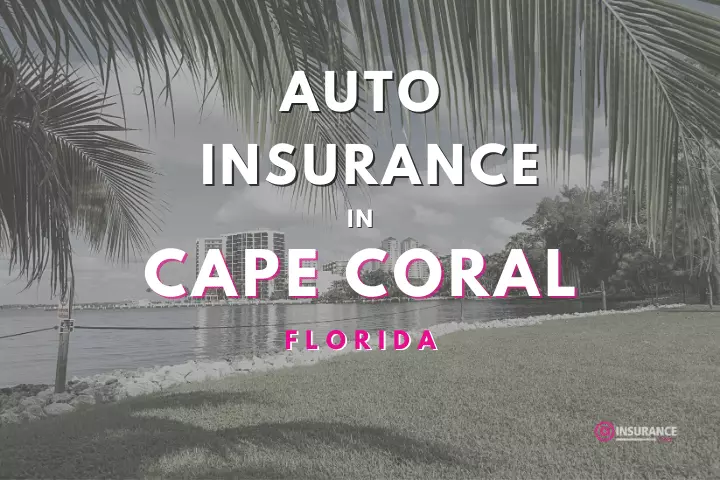 Cape Coral has roots in being a pre-planned community that thrives because of its attractive location nestled near Fort Myers and near Tampa and Miami. On top of that though, this city is also right on the coast and has been nicknamed "The Cape" by locals.
Cape Coral is named the 130th most populated city in the United States and the biggest city between Tampa and Miami. It also boasts the title of the only city on earth with over 400 miles of waterways that can be navigated by boat. This beautiful tropical oasis is a hot spot for sun & coastal breezes, but on average it does not find relief from rising insurance prices in the State of Florida.
What Are The Most Basic Types of Auto Insurance in Cape Coral?
State minimum coverage, state minimum plus liability, or full coverage? If you're confident in what you need, scroll down and get a quote, quickly and easily. Insurance can be confusing. But this doesn't necessarily mean that it is scary, even for a Florida citizen new to the world of insurance. This article will provide what you need to know about some simple insurances and their features, as well as provide information on where one can learn more or speak with an expert in case the topic is too complex. When thinking about the most basic type of insurance, keep these keywords in mind to understand the world of auto insurance.
Property Damage Liability Insurance (PDL).
Claims for property damage caused by an accident will usually be covered up to a certain level by your insurance company. For example, the amount may be limited to $5,000 of coverage if you are driving a car. If it is someone else's car and you were at fault, then the limit may be higher.
Personal Injury Protection Insurance (PIP).
With PIP coverage, medical bills for you, the driver, and your passengers will be paid, even if you or someone else caused the accident.
Liability Insurance.
If a covered accident is attributed to you and it follows the coverage, your insurance provider will cover the costs.
Collision Coverage Insurance.
Your collision coverage will pay for the repairs to your car when it is in an accident.
Comprehensive Coverage Insurance.
The third type of insurance is called 'comprehensive' and it offers the full coverage option. This includes paying for your repairs in the case of an accident or damage, as well as covering you if you have something stolen from the car. It also includes terms in case of fire or fire damage. It covers repair and replacement and can be extended to other members or people.
Comparing quotes may help you get cheap car insurance rates in Cape Coral, Florida as low as $39/month.
Click To Tweet
How to Choose the Best Car Insurance Agency in Cape Coral?
One of the most important necessities to have when getting auto insurance is the right protection in the event something unexpected happens. For example, if your car is in an accident or needs repairs, you do not want to be financially burdened by that. Tampa car insurance enables you to buy all your requirements in one place and can offer some of the best rates in FL. The most popular forms of insurance are those that cover a wide range, as well as more affordable rates. We also offer cheap car insurance all across Florida and Texas, with our service being able to cater to various types of companies. Our goal is always to create the best-suited policy to suit your business needs so that you can focus on other important areas instead.
One of the privileges is that you don't need to come in person to visit our office. Simply fill out a quote online, and speak with one of our agents who will help you find the best car insurance rates available near you. Just remember that you need to have car insurance in Florida to drive, so be sure to speak to an agent today and get back on the road.
Should I Get Full Coverage or Minimum Auto Insurance in Cape Coral?
While full coverage auto insurance provides the most significant safety net and protection for you and your property, the minimum coverage is a cheaper alternative that is required to drive in the State of Florida. the decision of whether or not to get minimum or full coverage auto insurance comes down to a few simple factors. The first is your financial situation and whether the extra expense of full coverage is worth it for you. When choosing minimum insurance, you save money on car insurance. Another factor to keep in time is how much you are driving every month and how far. If you work down the road and grocery shop nearby, then consider that in your decision and see if the surrounding area is generally safe. Your driving record may also be a good indicator as to whether or not you should purchase coverage. Minimum insurance is a good idea if you can't afford to go for the full range. However, if you drive very carefully you may not buy it at all. Regardless of what option you do decide on though, two types of coverage are required by law: Personal Injury Protection (PIP) and Property Damage Liability (PDL). You should do your research and figure out which route has the most potential to work.
Drive Safe!
---
Share This Insurance Story, Choose Your Platform!
---