Find Cheap Car Insurance in Gainesville, Florida.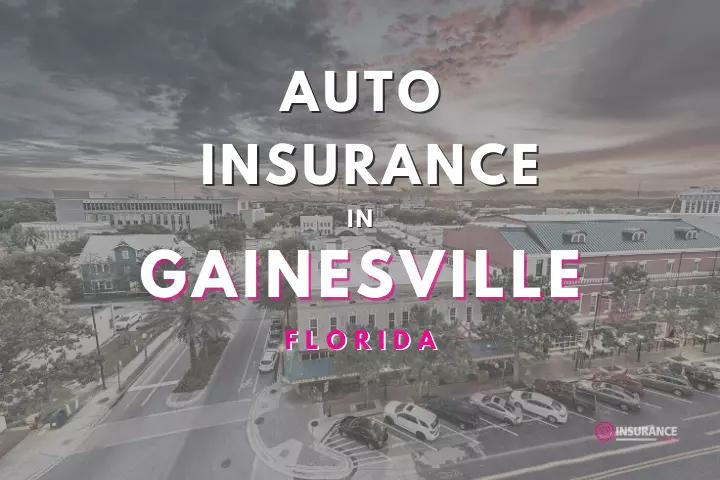 The home of The Florida Gators and The University of Florida in Gainesville, FL. Considered to be the largest city in North Florida, Gainesville pays thanks to its college football and arts scene for its continued success. From Tom Petty to The Eagles, this town has sprouted some of the world's greatest talent.
Car insurance in Gainesville, FL is on average, less than the state's average price. This is perfect for collegegoers or citizens of Gainesville because there are even more ways to save on insurance. One big reason for this is that Gainesville is isolated from other big cities in Florida and doesn't have a big tourism industry but rather a school-based influx of people. One way to save is with Insurance Direct. At Insurance Direct, we shop multiple carriers to find you the best rates on car insurance in minutes.
What Are The Most Basic Types of Auto Insurance in Gainesville?
State minimum coverage, state minimum plus liability, or full coverage? If you're confident in what you need, scroll down and get a quote, quickly and easily. For those new to the world of insurance or simply not adept, there are multiple different kinds of coverage and policies available for Florida citizens, which can be intimidating. When thinking about the most basic type of Insurance, keep in mind these keywords that can help you understand the world of auto insurance.
Property Damage Liability Insurance (PDL).
The maximum that your insurance company will pay for property damage caused by a car accident.
Personal Injury Protection Insurance (PIP).
PIP coverage, your medical bills along with those of your passengers will be paid, no matter who is at fault for an accident.
Liability Insurance.
Liability insurance covers you in the event you are in a covered car accident and it is determined the accident is a result of your actions.
Collision Coverage Insurance.
Collision coverage will pay for the repairs to your car.
Comprehensive Coverage Insurance.
The third insurance type is comprehensive, which offers you coverage to the fullest. It covers your car in extreme cases and accidents. Three people can be added to your insurance policy. This one covers your repair and replacement services. It also includes terms in case of a fire or damage by fire. It covers repair and replacement and can be extended to other members or people.
Comparing quotes may help you get cheap car insurance rates in Gainesville, Florida as low as $39/month.
Click To Tweet
How to Choose the Best Car Insurance Agency in Gainesville?
Things can and will go wrong without warning or reason, which is why it is necessary to have the best car insurance in Tampa Florida, to protect you from any sudden financial constraints in case your car is in an accident or requires repairs. Tampa car insurance is your one-stop shop for all your requirements and the best company insurance offers in the state of Florida. The best kind of insurance is the one that covers all aspects and is still affordable for the clients. Also, our company aims to provide cheap car insurance all across Florida & Texas. At Insurance Direct, we can help you create a commercial auto insurance policy that is designed to safeguard the best interests of your business - so you can focus on serving your customers and increasing your profits.
One of the privileges of working with us is that you don't need to come into the office with your vehicle to get a policy. Simply fill out a quote online and speak to one of our agents and we can help you find the cheapest car insurance available on the market. Just remember that minimum car insurance is a legal requirement to drive in Florida, so be sure to speak to an agent today and get back on the road.
Should I Get Full Coverage or Minimum Auto Insurance in Gainesville?
While full coverage auto insurance provides the most significant safety net and protection for you and your property, the minimum coverage is a cheap alternative that is required to drive in the State of Florida. the decision of whether or not to get minimum or full coverage auto insurance comes down to a few simple factors. The first is your financial situation and if paying the extra cash for full coverage is worth it for you. When choosing minimum insurance, you save money on car insurance.
Another factor to keep in mind is how much you are driving every month and how far. If you work down the road and grocery shop nearby, then factor that into your decision and see if the surrounding area is generally safe. Also, your driving record may be a great way to dictate whether or not to get coverage. If you have a history of accidents it might be the safest option to get full range, but if you drive slowly and don't have any accidents it might make more sense to just take the minimum. Regardless though, minimum insurance (PIP and BIL) are required to drive in the state of Florida. Be sure to do the proper research and go through the pros and cons of each decision.
Drive Safe!
---
Share This Insurance Story, Choose Your Platform!
---